Key image quality factors like color accuracy, resolution, refresh rate, and contrast ratio all play a role in determining how good a monitor's image appears.
One technology that aims to optimize contrast ratio in Asus gaming monitors is ASCR, or Asus Smart Contrast Ratio. 
Understanding what ASCR is and how to adjust its settings can help users get the best image possible.
What is ASCR?
Dynamic Contrast Ratio Technology
ASCR stands for Asus Smart Contrast Ratio. It is a form of dynamic contrast ratio (DCR) technology that Asus uses in many of its gaming monitors and high-end displays. The goal of ASCR is to automatically adjust the backlighting brightness of the monitor on-the-fly to improve the apparent contrast ratio and image quality.

It does this by analyzing the content being displayed and making continuous modifications to the backlight intensity based on the brightness levels in each part of the screen. In dark areas, ASCR turns down the backlight to make shadows and black tones appear deeper and richer. In bright areas, it increases backlight intensity to make highlights seem more vibrant.
ASCR in Asus Monitors
ASCR comes enabled by default on most Asus gaming monitors. The company claims it can provide up to a 100,000,000:1 dynamic contrast ratio when enabled. The technology is designed to enhance detail visibility in dark game scenes and make bright colors "pop" more. ASCRreactively adapts the monitor's contrast ratio based on the currently displayed image content.
Understanding Contrast Ratio
Contrast Ratio Importance
Contrast ratio refers to the difference between the brightest white and darkest black a monitor can produce. A higher contrast ratio allows for more granularity and steps in shade intensities between pure white and black.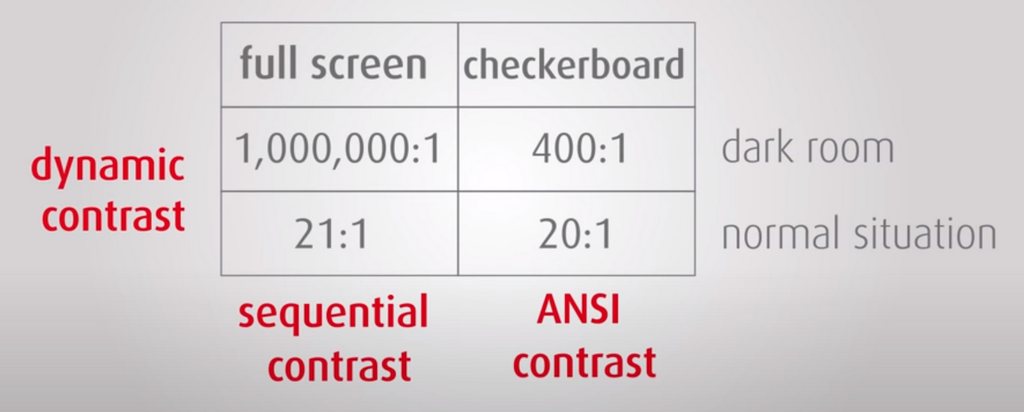 This typically enables more detail visibility in dark areas of images, revealing elements that would otherwise disappear into blackness. It also produces brighter, more vibrant highlights. So contrast ratio impacts a monitor's ability to display a wide spectrum of brightness levels.
Effects of ASCR on Contrast Ratio
By automatically adjusting the backlight intensity, ASCR seeks to optimize a monitor's contrast ratio on-the-fly based on what's being displayed. Lowering backlight intensity improves the rendering of blacks and shadows, while increasing it pumps up highlights.
So ASCR improves perceived contrast in both bright and dark portions of the image. The adjustments are continuous, allowing the dynamic contrast ratio to change from moment to moment.
Adjusting ASCR Settings
Locating ASCR Settings
The ASCR settings on Asus monitors can be accessed through the On-Screen Display (OSD) menu. Users can enter the monitor's settings menu, then navigate to the "Image" tab. Here there will be a setting directly labeled ASCR that can be toggled On or Off. There may also be settings to adjust ASCR intensity or speed.
When to Turn ASCR On/Off
Whether users should enable or disable ASCR depends on their preferences and intended usage. For gaming, ASCR can sharpen detail visibility in dark scenes. But for movie watching, the constant contrast adjustments may be distracting.
ASCR tends to work best with varied content containing both very dark and very bright areas. So it's often beneficial for gaming, while less ideal for video. Users should try enabling and disabling ASCR with their preferred content to see its impact.
Comparison with Other Technologies
Dynamic Contrast Ratio (DCR)
ASCR is Asus' proprietary implementation of dynamic contrast ratio technology. DCR in general operates on the same principles of modifying backlight brightness to alter the apparent contrast ratio of an LCD monitor or TV. Other manufacturers may use their own versions under different names.
Acer Adaptive Contrast Management (ACM)
Acer's equivalent technology is called Adaptive Contrast Management or ACM. It works similarly to ASCR, automatically adjusting backlighting to improve contrast depending on screen content. Both technologies dynamically optimize the monitor's contrast ratio in real-time based on analysis of the image.
So in summary, ASCR is Asus' take on DCR designed to boost contrast and image quality in their gaming monitors. Its effects on perceived contrast can benefit gaming visuals when enabled, but may detract from video viewing. Users should try it for themselves to determine if its contrast adjustments are beneficial for their particular usage.
Impacts on Image Quality
Dark and Bright Area Adjustments
One of the main effects of ASCR is to adjust the visibility and quality of dark and bright areas of an image. In darker regions, ASCR lowers backlight intensity to make blacks appear deeper and details emerge from shadows.
This reveals elements that might otherwise be crushed into blackness without the adaptive contrast adjustments. However, some users feel this comes at the expense of flattened black levels. In brighter areas, ASCR increases backlighting to make highlights seem more vibrant. But this can sometimes cause a washed out or overblown look in some bright content.
Gamma Curve and Color Accuracy
The constant modifications to backlight intensity with ASCR essentially alter the monitor's gamma curve dynamically based on screen content. This may lead to irregularities and inconsistencies in gamma across an image.
Some users report a resulting reduction in color accuracy, with darker regions becoming oversaturated while bright areas lose vibrancy. The changing brightness levels can shift colors in unintended ways.
Viewing Angles
Since ASCR works by modifying backlight intensity, the adjustments it makes may look different when viewed slightly off-center or from wider angles. The perceived effects of ASCR can vary significantly based on viewing position and angle. This could lead to inconsistent image quality for multi-viewer setups.
Potential Issues with ASCR
Flickering and Eye Strain
The constant fluctuations in backlighting caused by ASCR can sometimes result in flickering or unstable brightness levels. This flickering may be imperceptible to some but noticeable and distracting to others. Prolonged exposure could potentially contribute to eye strain or headaches in sensitive individuals. Users who experience eye discomfort may want to disable ASCR.
Light Bleeding and Motion Clarity
The increased backlight intensity produced in bright areas by ASCR could worsen IPS glow, backlight bleed, or clouding around monitor edges. It may also reduce motion clarity in moving images, as the rapid brightness changes lead to noticeable strobing, blurring, or smearing in fast motion.
Power Consumption
By frequently adjusting the monitor's backlight brightness up and down, ASCR may reduce overall power efficiency compared to running at a fixed backlight level. The power draw fluctuations could incrementally increase electricity usage.
Considering Subjective Preferences and Alternatives
Personal Taste
Given the potential benefits and drawbacks of ASCR, users should rely on personal preference and intended usage scenarios to determine if they wish to enable or disable the feature. ASCR may benefit certain content while detracting from other uses. Users should decide for themselves if its advantages outweigh disadvantages for their needs.
Alternate Adjustments
Besides adjusting ASCR, users can tweak other settings like RGB levels to alter perceived contrast and image characteristics. Changing RGB balance along with ASCR may provide benefits without requiring extreme backlight adjustments from ASCR alone. Users should experiment to find the optimal settings for their preferences.
Conclusion
In summary, ASCR can certainly provide benefits under certain usage conditions. But potential issues like flickering, eye strain, motion clarity impacts, and shifts in color and gamma mean ASCR comes with some caveats as well.
There is no universally optimal setting – personal taste and content viewing habits should dictate each user's ASCR preferences. While typically beneficial for gaming, it likely hurts video viewing. So enable or disable ASCR based on your individual needs and monitor usage patterns.