By lowering the output resolution from the GPU to 1080p, even weaker or older graphics cards can achieve much higher frame rates on 4K monitors while still retaining decent visual quality.
But how well does 1080p game and video content actually look when displayed on a 4K monitor compared to on a native 1080p monitor? And what techniques exist to help optimize and improve the experience of running 1080p on a higher resolution 4K display?
1080p on 4K vs on 1080p Monitor
When displaying 1080p games, videos, or other content on a 4K monitor, the monitor must upscale and interpolate the lower resolution 1080p image to fill its higher native 4K resolution panel.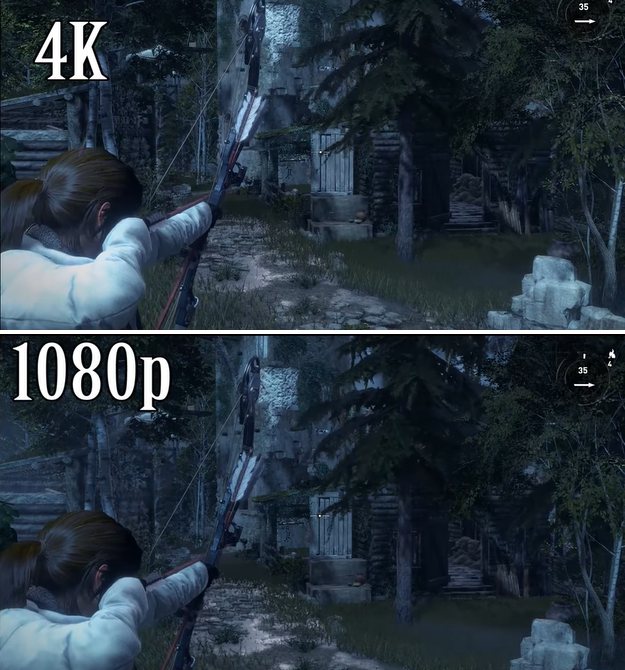 This upscaling process often results in some inherent loss of sharpness, clarity, and fine detail compared to viewing the same 1080p content natively on a 1080p monitor with no scaling required. However, there are several factors that can influence the perceived image quality and determine how noticeable the quality loss actually is:
Screen door effect
The dreaded "screen door effect" of visible pixel grid lines is much more pronounced on native 1080p monitors, especially at larger 27″ and up sizes. The significantly higher pixel density of a 4K monitor at similar display sizes helps hide this effect quite effectively and can lend a much smoother quality to the upscaled 1080p image, even if it exhibits slightly weaker sharpness.
Sharpness and scaling algorithms
The perceived image sharpness and clarity can vary quite a bit depending on the specific scaling algorithm used by the monitor's internal upscaler. Higher end 4K monitors tend to utilize more advanced upscaling algorithms and image processing that can minimize the loss of fine detail when displaying upscaled 1080p content.
Viewing distance from the monitor also impacts sharpness perception greatly. Sitting further away makes pixelation artifacts less visible. Overall most still agree that native 1080p ultimately looks sharpest, but the difference becomes far less significant as monitor pixel densities continue to increase over time.
Upscaling Technologies
Beyond monitor upscalers, various other external upscaling technologies have emerged to help improve 1080p content viewing on 4K and higher resolution displays:
Integer Scaling
Integer scaling is a specialized upscaling method that has been added to the drivers of AMD and Nvidia GPUs in recent years. It works by scaling lower resolution content like 1080p up to higher resolutions such as 4K in clean multiples, avoiding the blurring and artifacts that can occur from traditional bilinear and bicubic scaling algorithms.
This allows 1080p content to upscale to 4K in a perfect pixel-to-pixel 4:1 mapping, displaying much sharper than typically seen.
Nvidia DLSS and AMD FSR
DLSS and FSR stand for Deep Learning Super Sampling and FidelityFX Super Resolution – both are AI and machine learning-powered real-time super resolution technologies by Nvidia and AMD respectively.
They can help significantly sharpen and upscale lower resolution content like 1080p to higher resolutions such as 1440p or 4K in a much more intelligent and optimized manner compared to traditional upscaling. Their integration directly into modern games and media applications is rapidly improving over time, providing a compelling option for displaying 1080p content sharply on higher resolution displays.
With these technologies and optimal viewing conditions, the difference in visual quality between native 1080p and upscaled 1080p on a 4K monitor continues to shrink. Ultimately personal preference, eye sharpness, and intended use determine whether the tradeoffs are worthwhile for the use case.
Gaming Performance and Considerations
Running games at 1080p resolution on a 4K monitor presents some key tradeoffs compared to gaming on a monitor natively 1080p. While framerates can match that of a true 1080p display, visual quality may suffer from artifacts and blurring.
Performance and Image Quality
Enabling a 1080p rendering resolution on a 4K monitor provides a major framerate boost over running at native 4K resolution, with performance essentially matching that of a same-sized native 1080p monitor.
This enables weaker GPUs to achieve smoother frame rates. However, some degree of image quality downgrade is likely when the 4K monitor upscales the 1080p content to fit its higher native resolution panel. The flexibility to switch between 4K and 1080p rendering on the fly depending on graphical demands of the game is a key benefit, but this advantage comes at the cost of visual fidelity.
Comparison vs 1440p
Due to the mathematical scaling relationship between resolutions, running 1080p on a 1440p monitor induces significantly more blurring, artifacts, and image degradation compared to displaying 1080p on a 4K monitor.
This is because 1440p does not divide evenly into 1080p, resulting in fractional and uneven pixel scaling. On the other hand, 4K scales pixels in a perfect 1:4 pixel ratio when displaying 1080p content and preserves more of the source image integrity as a result. However, some detail loss is still inevitable due to upscaling.
Competitive Gaming
For competitive gaming, factors like visual fidelity, color accuracy, motion clarity, and input lag are crucial. Displaying upscaled 1080p content on a 4K monitor may suffer from issues like washed out colors, added blur from frame interpolation, increased input lag from post-processing, and an overly smooth image lacking detail.
This can negatively impact reaction times and overall gaming performance. Therefore, for fast-paced competitive gaming requiring quick reactions, a true native 1080p gaming monitor is still likely the better choice over upscaled 1080p on a 4K display.
Factors Impacting Display Quality
Several key variables affect the perceived quality and sharpness of displaying 1080p content on 4K monitors:
Monitor Size
The larger the 4K monitor, the more the reduced pixel density of the 1080p resolution gets highlighted. Larger screens magnify and expose the pixelation, artifacts, and lack of detail associated with upscaled 1080p content. On the other hand, smaller 4K monitors can help mask and soften these undesirable visual effects to some extent.
Monitor Specifications
The monitor's internal upscaler technology, panel type differences like VA vs IPS, contrast ratio, color gamut, and native pixel density all significantly influence how refined and true-to-source the upscaled 1080p image appears. Researching the monitor's capabilities and specs helps set proper expectations around visuals.
Resolution and Screen Size Relationships
For a given screen size, a higher resolution monitor inherently produces a visibly sharper and cleaner picture quality due to greater pixel density. For example, a 24″ 1080p monitor will look notably crisper than a 27″ 1440p monitor in many cases, despite the lower resolution.
This relationship remains important to consider even when factoring upscaled 1080p on 4K monitors. The screen size versus pixel density balance impacts perceived sharpness.
Conclusion
Using 1080p rendering resolution on a 4K monitor provides significantly higher framerates compared to native 4K, however at the cost of noticeably downgraded visuals versus true native 1080p. Competitive gamers favoring high fps over visual fidelity may find this tradeoff perfectly acceptable.
More cinematic story-driven games demand higher image quality. Ultimately, understanding variables like monitor size and viewing distance helps set proper expectations. Testing different configurations firsthand is highly recommended to determine the best overall gaming experience and monitor for each user's needs and preferences.