The refresh rate of a monitor indicates how many times per second the display updates with new image data. For PC gaming, higher refresh rates above the standard 60Hz generally provide a smoother and more responsive gameplay experience. However, there are diminishing returns as refresh rates increase. This article examines whether a 75Hz monitor is adequate for different types of PC gaming.
The Difference Between Refresh Rates
Higher refresh rates allow frames to update more frequently, leading to reduced motion blur and increased perceived smoothness in movement. This is especially apparent during quick camera rotations common in first person games. Doubling refresh rate from 30Hz to 60Hz provides a dramatic improvement in smoothness that most can notice.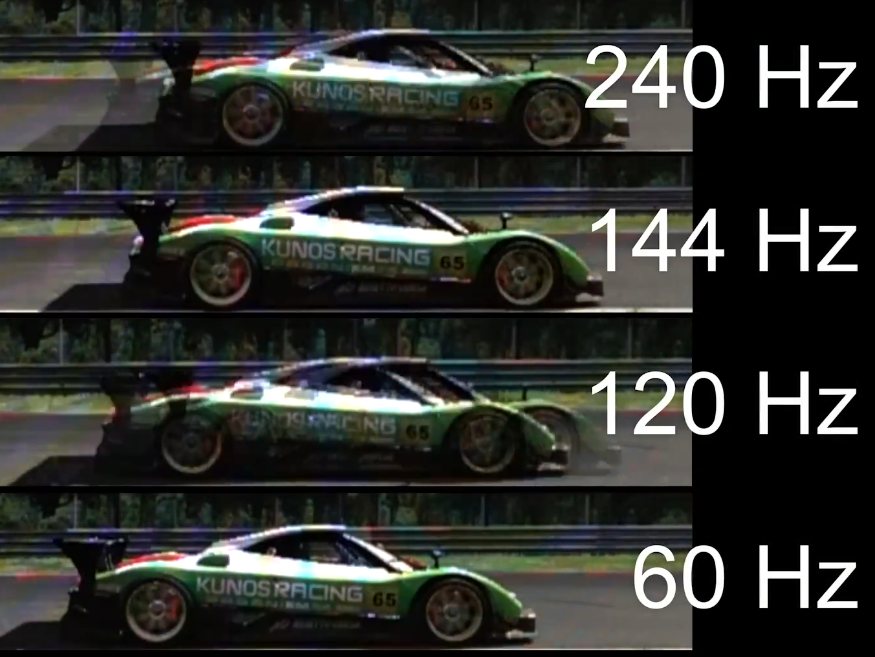 Based on first-hand accounts, the jump from 60Hz to 75Hz is still very noticeable, while 75Hz to 90 or 120Hz is less pronounced but still provides a benefit. After 120-144Hz, further improvements become marginal and hard to distinguish for most people.
Faster refresh also decreases input lag – the delay between performing an input like moving your mouse and seeing the result as an action on screen. This gives a more responsive "connected" feel when aiming or moving in games, especially those requiring fast reactions like competitive first person shooters.
The reduction in input lag can provide a competitive edge. Users report feeling and performing better in twitch-based shooters after upgrading monitors, with the difference most apparent in mouse control and aiming.
Competitive vs Casual Gaming
Competitive Gaming
In fast paced competitive games like FPS, every millisecond matters. Based on numerous first-hand accounts, the reduced input lag and improved motion clarity from high refresh rates allow players to react quicker to threats, track targets better during action, and get shots on target faster – advantages that can mean the split second edge needed to win a gunfight.
This is why 144Hz or above is strongly recommended by experienced competitive gamers, with esports professionals using 240Hz monitors to get every possible advantage. The difference between 75Hz and 144Hz can be noticeable and impact performance in competitive play.
Casual Gaming at 75Hz
For more laid back single player gaming, the benefits of high refresh over 75Hz are less vital. While 144Hz will provide a visibly smoother experience to most, 75Hz is often adequate for enjoying AAA games in a casual context.
Slower paced games or those using a controller rather than fast mouse movements do not demand the absolute lowest lag possible. So for many, upgrading just for higher refresh gives diminishing returns compared to improving resolution or graphics quality for immersive AAA games.
Ultimately personal preference and sensitivity matter. Some notice and are distracted by lower frame rates, while others barely tell or care about 75Hz vs 144Hz. So 75Hz can hit a good balance of smoothness and value for casual gaming. However, trying higher refresh can make it hard to go back for some.
In summary, while higher refresh is always better, 75Hz is suitable and sufficient for casual gaming. Competitive players seem to universally benefit from 144Hz or above based on the advantage of reduced input lag and motion clarity. So prioritizing a high refresh rate monitor depends on your games, system capabilities, and personal sensitivity to frame rates.
Sync Technologies and Refresh Rates
Sync technologies like G-Sync and FreeSync help adjust the monitor's refresh rate dynamically to match the frame rate output of the GPU. This prevents screen tearing and stuttering when frame rates fluctuate.
With a 75Hz monitor and G-Sync/FreeSync enabled, the refresh rate can vary smoothly between the supported sync ranges like 40-75Hz based on the game's performance and frame rate. This provides a consistent, tear-free gaming experience even if actual frame rates in demanding scenes drop below 75 fps.
Higher refresh rate monitors allow wider sync ranges to better accommodate frame rate variability – for example 48-144Hz on a 144Hz monitor. But a 75Hz monitor with adaptive sync tech still handles normal frame rate fluctuations well to deliver smooth gaming with minimal stuttering or tearing.
According to first-hand accounts, G-Sync/FreeSync makes lower frame rates feel smoother and lag-free compared to a fixed 75Hz refresh rate.
Additional Factors
Panel Type: TN vs IPS
TN panels have faster response times, lower cost, and support for higher refresh rates compared to IPS technology. But IPS panels offer much better color accuracy, wide viewing angles, and overall picture quality. This is why for a given refresh rate, an IPS monitor will provide better image quality compared to TN alternatives.
As a result, a good quality IPS 75Hz monitor can still provide a superior overall visual experience compared to a lower-end TN panel 144Hz monitor with washed out colors, narrow viewing angles, and other picture issues. The IPS advantage in color and image quality remains even at 75Hz.
So IPS 75Hz represents a sweet spot that combines smooth refresh rates and adaptive sync with excellent visuals and picture quality – ideal for immersive single player gaming. Gamers report IPS 75Hz monitors providing vibrant, gorgeous visuals with smooth gaming performance.
Resolution and GPU Demands
Higher resolution monitors like 1440p put more load on the GPU compared to 1080p. As a result, many graphics cards like the RTX 3060 Ti or RTX 3070 can struggle to push very high frame rates beyond 75Hz at 1440p resolution in modern graphically intensive games.
However, these cards are well equipped to deliver smooth frame rates around 60-75 fps at 1440p resolution in AAA titles. So a 75Hz 1440p monitor with G-Sync or FreeSync can better leverage the capabilities of mid-range cards to render sharper and more detailed visuals through higher resolution while still providing smooth performance in the optimal 60-75Hz range for non-competitive gaming.
Conclusion
In summary, while higher refresh rates like 144Hz or more provide competitive advantages, a 75Hz monitor is perfectly adequate for immersive, non-competitive AAA gaming. Adaptive sync tech helps maintain smooth experiences at 75Hz despite frame rate fluctuations.
And good 75Hz IPS monitors offer excellent picture quality on top of fluid refresh rates. For most casual gamers, a quality 75Hz monitor can deliver smooth, gorgeous gaming visuals. But competitive gamers should consider 144Hz or above monitors to react quicker in fast-paced multiplayer titles.