AMD's FreeSync technology is designed to eliminate screen tearing and stuttering in games by synchronizing the monitor's refresh rate with the frame rate output of a compatible GPU. FreeSync is based on the open VESA Adaptive Sync standard and does not require proprietary hardware, allowing it to work with both AMD and NVIDIA graphics cards.
Compatibility
Since the 1000 series, NVIDIA GPUs have included support for FreeSync monitors over DisplayPort. When connected to a FreeSync display, NVIDIA cards can enable variable refresh rate in the control panel settings. This allows the monitor to match its refresh rate to the GPU's frame rate on the fly, preventing tears and jitter.
However, compatibility and performance can vary depending on the quality of the monitor's FreeSync implementation. To guarantee a smooth experience, NVIDIA certifies specific monitors as G-Sync Compatible after rigorous testing. Monitors not on this list may still work, but could potentially have issues like flickering or ghosting in certain games.
G-Sync Certification
NVIDIA's G-Sync Compatible certification sets standards for FreeSync monitors to deliver a seamless variable refresh rate (VRR) gaming experience. To earn certification, monitors must pass tests for image quality and performance.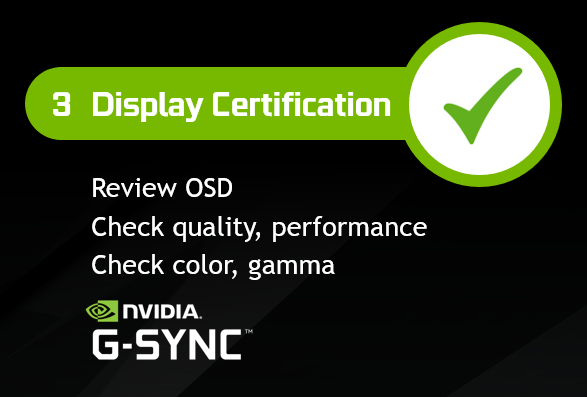 Criteria include the absence of visible artifacts like pulsing or flickering with VRR enabled. The monitor must also support a wide VRR range, such as 60Hz-144Hz, to dynamically match a wide range of frame rates.
G-Sync Compatible certification ensures the monitor works smoothly with both NVIDIA and AMD GPUs. It dynamically matches the monitor's refresh rate to the rendered frame rate for a tear-free gaming experience.
Potential Issues
Using a FreeSync monitor without G-Sync Compatible certification may result in a suboptimal VRR experience. Image defects like flickering or ghosting could appear in certain games or frame rate ranges.
Additionally, uncertified monitors often have a narrow VRR window insufficient for smooth performance across a wide range of frame rates. They may also require manually enabling VRR in settings rather than enabling it by default.
Extensive research should be done before purchasing an uncertified FreeSync monitor to ensure it will provide a consistently smooth experience with an NVIDIA GPU.
Display Connections
To utilize variable refresh rate on a FreeSync monitor with an NVIDIA GPU, the monitor must be connected via DisplayPort rather than HDMI. The DisplayPort interface has the necessary bandwidth and adaptive sync support.
DisplayPort Requirements
DisplayPort 1.2a or higher is required for NVIDIA cards to engage variable refresh rates on FreeSync monitors. Older version of DisplayPort lack adaptive sync functionality. Using the proper DisplayPort cable is crucial.
HDMI connections can only enable limited VRR in specific scenarios, such as GeForce 16/20/30 cards paired with HDMI 2.1 monitors. For consistent results across various NVIDIA GPUs, DisplayPort is recommended.
G-Sync/Adaptive Sync
To enable variable refresh rates on a FreeSync monitor with an NVIDIA GPU, G-Sync or Adaptive Sync must be enabled in both the monitor's onboard settings menu and the NVIDIA Control Panel.
NVIDIA Control Panel Settings
In the NVIDIA Control Panel, under "Set up G-SYNC," the "Enable G-SYNC, G-SYNC Compatible" option should be selected. The connected FreeSync monitor must be chosen, and "Enable settings for the selected display model" checked.
For uncertified monitors, the maximum refresh rate may need to be adjusted to match the display's capabilities. Finally, click Apply for settings to take effect and the monitor will function with VRR.
AMD FreeSync Monitors
FreeSync monitors can provide solid VRR performance with NVIDIA cards, but experience depends on model. Comprehensive research is important prior to purchase.
Low Framerate Compensation (LFC)
A key performance consideration is the monitor's LFC capabilities. LFC maintains smooth visuals when frame rates dip below the minimum refresh rate. Not all FreeSync monitors support it.
AMD FreeSync Premium certification guarantees LFC support. This prevents stuttering and tearing when performance drops. LFC is vital for an optimal VRR gaming experience.
Pricing and Monitor Research
One major advantage of AMD FreeSync monitors is their lower pricing compared to equivalent G-Sync models. This is because FreeSync does not require proprietary hardware built into the monitor, helping keep costs down.
However, pricing and performance can still vary greatly across FreeSync monitors. Thorough research is crucial before purchasing to get the best experience paired with NVIDIA graphics cards.
Monitor Reviews
Helpful sources for monitor research include professional reviews like Rtings.com, which test monitors with both AMD and NVIDIA GPUs. User reviews on sites like Reddit can also provide insight into real-world adaptive sync performance.
Key areas to investigate are the supported FreeSync range, pixel response times, ghosting, color accuracy, and whether any flickering or other artifacts occur. Check if the monitor is on NVIDIA's certified G-Sync Compatible list. Reviews often measure performance metrics to quantify image quality and variable refresh rate capabilities before purchase.
For example, some discussions mentioned that certain monitors have weird colors in certain Hz ranges, incredible flickering, or are unusable for Freesync in borderless window mode. This level of detail is important to research.
HDR and AMD FreeSync
AMD FreeSync monitors come in three tiers. FreeSync Premium adds Low Framerate Compensation (LFC) support. FreeSync Premium Pro builds on this by also adding HDR support.
LFC smooths performance when framerates drop below the minimum refresh rate. HDR provides greater brightness, contrast, and color depth for a more immersive gaming experience.
However, the vast majority of monitors still use the standard FreeSync tier without these enhancements. Gamers who prioritize HDR visuals should specifically seek out Premium Pro models that meet brightness, color, and contrast specifications for true HDR gaming.
Console Support
Xbox Series X/S consoles support AMD FreeSync for gaming monitors connected via HDMI. This enables variable refresh rates during console gaming for smoother performance.
PlayStation 5 does not officially support FreeSync, but can unofficially enable VRR over HDMI on certain compatible monitors. However, performance varies based on the display model and HDMI version used.
There are some limitations though. HDMI VRR has a much narrower supported frequency range compared to DisplayPort. Console gamers should thoroughly research specific monitors to ensure they function properly for VRR gaming before purchase.
For example, some discussions mentioned HDMI VRR only works on new G-Sync modules, and many existing G-Sync monitors don't support it. The monitor's HDMI version, FreeSync range, and real-world tests on consoles are important factors to investigate.
Summary
For optimal results, users should connect via DisplayPort, enable settings through the NVIDIA Control Panel, and consider monitors with Low Framerate Compensation and HDR for superior gameplay.