Two popular options are 43-inch and 50-inch TVs. While only 7 inches apart in size, these two TVs can differ quite a bit when it comes to dimensions, price, features, and overall viewing experience. This guide provides a detailed comparison of 43-inch and 50-inch TVs across various factors to consider when choosing between these two sizes.
Size Difference
Dimensions
Looking at the measurements, a 50-inch TV is substantially larger than a 43-inch model. The 50-inch TV is around 3.4 inches taller and 6.1 inches wider. Overall, the 50-inch TV offers nearly 277 extra square inches of viewable screen space.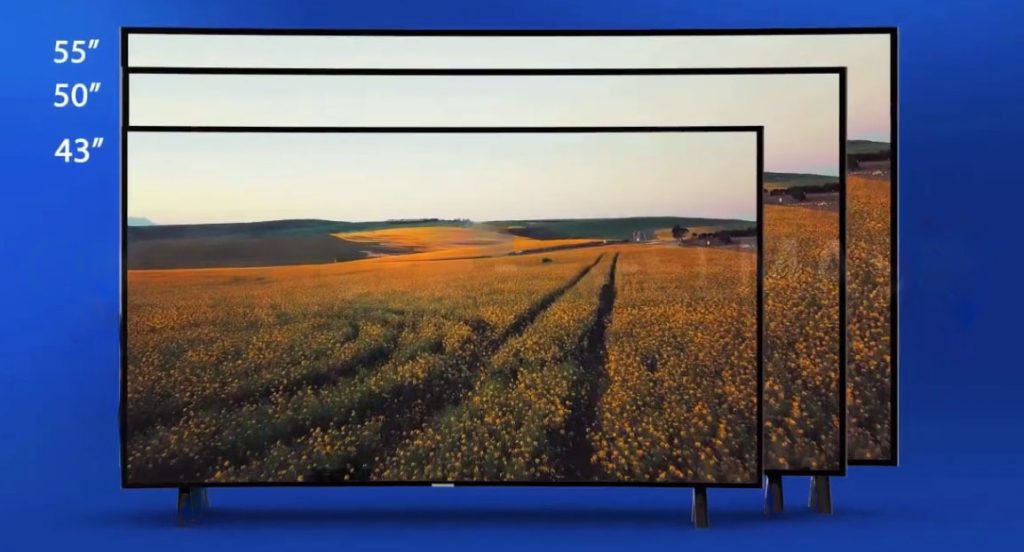 This accounts for about 2 square feet of added display area compared to the 43-inch. With TVs, bigger dimensions usually translate into a more immersive viewing experience. For example, some users upgrading from 43 to 50 inches noticed a significant difference in screen size and found the 50-inch much more impactful.
Comparison in Size
When viewed side-by-side, the size difference between a 43-inch and 50-inch TV is quite noticeable. The 50-inch model dwarfs the smaller 43-inch version in both height and width. The larger 50-inch screen creates a much more immersive viewing area that can provide a cinematic experience. Users describe the 50-inch as "substantially larger" than the 43-inch when seen in person.
Price
Price Range
In general, 50-inch TVs are more expensive than 43-inch models. Comparing TVs with the same features, a 50-inch typically costs $80-100 more than a similar 43-inch. Of course, prices can vary drastically based on screen technology, smart capabilities, and other features.
But when it comes to size alone, the larger 50-inch screen usually demands a higher price. Some budget-focused users expressed concern about the high cost of 50-inch models recommended by other users, indicating a noticeable price jump from 43 to 50 inches.
Availability
When it comes to availability, 43-inch TV models are much more common than 50-inch options. Many manufacturers like Sony and LG have scaled back or eliminated 50-inch screen sizes altogether, making the 43-inch a more prevalent choice.
With wider availability across brands, 43-inch TVs also tend to provide more choices in features and technology. For those wanting a 50-inch specifically, the decreased availability can make finding the right model more difficult.
Viewing Distance and Room Size
Optimal Viewing Distance
A 43-inch TV is best viewed from about 6 feet away, while a 50-inch screen looks best from around 7 feet. This means the ideal viewing distance increases slightly with the larger 50-inch display. Room size is another factor, as a 50-inch TV may overpower a smaller bedroom while being perfectly suited for a living room.
Users mentioned that smaller 43-inch works well for desktop gaming setups where the viewer is very close. The 50-inch is preferred for living rooms where seating is farther from the TV.
Features
Resolution and Screen Type
When it comes to resolution, 50-inch TVs are consistently 4K while less expensive 43-inch models may still be 1080p. For screen type, both sizes offer LED, QLED, and some OLED options. However, advanced technologies like Mini LED are currently only found on 50-inch or larger screen sizes.
One user mentioned that 43-inch TVs can offer a wider range of panel types like VA versus IPS, providing more options for contrast and viewing angles.
Gaming Features and Specialty TVs
Gaming-centric features like HDMI 2.1 and 120Hz refresh rates are more common on 43-inch TVs catering to gamers. Specialty TVs like Samsung's rotating Sero or art-focused Frame models are also largely limited to 43-inch and smaller screens. The smaller 43-inch size makes these unique TVs better suited for specific applications like desktop gaming and wall art displays.
Sound Quality
With today's ultra thin TV profiles, neither screen size can offer robust built-in audio. But the larger 50-inch screen allows more space for speaker components that may provide slightly better sound quality overall. However, multiple users noted that external sound systems are recommended for both 43-inch and 50-inch TVs to get premium audio capabilities.
Usage Considerations
Living Room vs Bedroom
When deciding between a 43-inch and 50-inch TV, it's important to consider the room it will be used in. A 50-inch may be too overwhelming for a small bedroom, whereas it can provide an immersive cinematic experience in a living room.
Conversely, a 43-inch is likely a better fit for a bedroom setup where viewing distances are shorter. Gamers favor 43-inch models for desktop use. Ultimately room size should dictate the choice – a 50-inch will underwhelm in a large living room but dominate a compact bedroom.
Wall Mounting and Energy Consumption
Both 43-inch and 50-inch TVs can be wall mounted, but it's important to check weight limits and mounting instructions first. A 50-inch may require more reinforced mounting. For stands, a 50-inch with separate feet could potentially not fit some furniture.
Energy use varies, but generally a 50-inch LED TV can use 20-30% more power than a 43-inch. However, newer models are improving efficiency all the time. The size difference alone shouldn't dictate choice, but energy use can be a consideration.
Recommendations
Budget and Best Value Picks
For budget home theater, the 50-inch Amazon Fire TV provides great bang for buck with a large 4K screen and smart features, while picture quality remains decent. For a splurge, LG's 43-inch OLED brings phenomenal picture quality and future-proof gaming features like HDMI 2.1 in a smaller package ideal for mixed usage. Samsung's 43-inch unique lifestyle TVs like The Frame or Sero offer specialty options too.
Usage Based Recommendations
For PC gaming, a 43-inch monitor-style TV excels with the high refresh rates and response times. Bedrooms suit a 43-inch for closer viewing distances. Cinematic living rooms warrant a 50-inch minimum. Light sleepers may prefer the lower energy draw of a 43-inch. Price and features tend to matter more than size, but usage can help narrow ideal options.
User Opinions
Many users cite optimal viewing distance and room size as the most important factors in choosing between 43 and 50-inch TVs. Some budget buyers expressed concerns about affordability of large 50-inch options.
Brand loyalty towards LG, Samsung and Sony TVs emerges in discussions. There are divided opinions on whether 4K resolution is beneficial on smaller screens. Overall both sizes have advocates, with personal preference being the deciding factor.
Alternatives
Other Sizes and Monitor Options
Those seeking smaller TVs may prefer a 40-inch which offers some cost savings over 43-inch, while not sacrificing much viewable area. For more immersive living rooms, 55-inch and up sizes are recommended.
Using a computer monitor as a TV replacement is an option for desktop setups, giving a smaller high pixel density display. Ultimately, room and budget constraints may make alternatives like these more suitable than limiting to just 43 vs 50-inch.
Technical Advice
Experts recommend properly calibrating display settings for optimal picture quality regardless of TV size. Bezel sizes are relatively uniform in affordable 43 and 50-inch models, so aesthetics should not sway the size decision.
Advanced features like 120Hz refresh rates are available in both, so size does not limit gaming capabilities. Focusing on the right features and finding models that fit room size and usage needs is more important than just comparing 43 vs 50-inch.
Conclusion
In summary, there is no universally superior choice between 43 and 50-inch TVs. The right size depends on budget, room dimensions, optimal viewing distances, energy usage needs and intended usage.
Both sizes can fit certain spaces better and offer models catering to gaming, home theater, or specialty needs. Carefully weighing personal preferences, usage needs and room constraints makes choosing the ideal 43 or 50-inch TV possible.