OLED (organic light emitting diode) displays have become synonymous with stunning image quality thanks to their per-pixel illumination and infinite contrast ratios. After being widely adopted in smartphones and TVs, OLED technology is now coming to computer monitors. However, there is one conspicuously absent size in the OLED monitor landscape – the 24-inch model.
This popular monitor size is virtually impossible to find with an OLED panel. What explains the lack of 24-inch OLED monitors? Let's examine the rise of OLED displays and the challenges and limitations that have prevented the production of smaller 24-27 inch models so far.
The Rise of OLED Displays
OLED displays work very differently from conventional LCD monitors. Rather than relying on a backlight shining through liquid crystals, each pixel in an OLED display emits its own light. This enables perfect black levels when pixels are turned off completely, for an infinite contrast ratio. OLED displays also boast impressive viewing angles and fast response times.
After being used in high-end smartphones for many years, OLED technology has been steadily adopted by TV manufacturers. LG in particular has invested heavily in large OLED panels for its OLED TV lineup. Reviews consistently praise OLED TVs for their stunning contrast and color performance.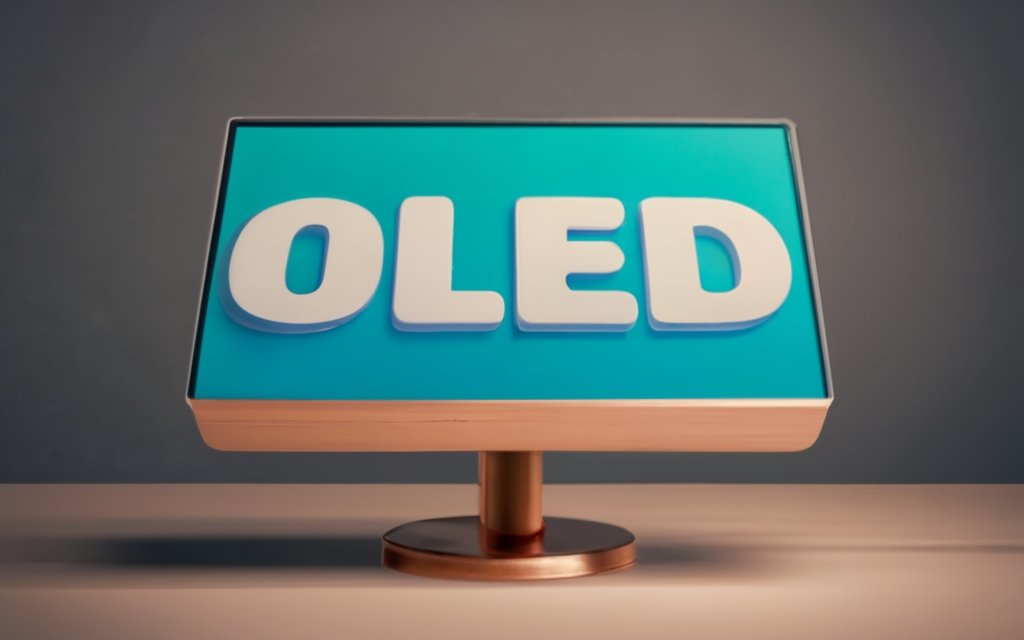 Over the past couple years, monitor manufacturers have also been dipping their toes into OLED technology. In 2019, LG introduced the first OLED monitors aimed at professionals, with a steep price tag over $3000 for the 31.5-inch 4K display. More consumer-focused OLED monitors have now arrived from companies like Dell, Alienware, and ASUS. However, these first-generation OLED monitors are far from affordable, with most selling for $1000 or more. That is many times the price of a typical high-quality LED-backlit LCD monitor.
While the OLED monitor market is still taking shape, most of the options so far have focused on the extremes. On one end are the giant ultrawide curved displays over 40 inches. On the other end are the more mainstream 27-32 inch monitors. Very few manufacturers have released OLED monitors in the popular 24-inch size that strikes a nice balance for many users.
Missing at 24 Inches
If you survey the current OLED monitor landscape, you'll find plenty of jumbo ultrawides and large 32-inch+ displays. But 24-inch options are virtually non-existent. Why is it so hard to find a 24-inch OLED monitor? Let's break down the factors holding back production in this size category.
Manufacturing Challenges
From a manufacturing perspective, it is more difficult and expensive to produce a smaller 24-inch OLED panel compared to a much larger TV display. To achieve the same resolution in a smaller size requires packing pixels more densely together. The smaller OLED elements are harder to fabricate reliably during production. This lower yield contributes to the high cost of smaller OLED panels suitable for monitor use.
By contrast, producing a 65-inch 4K OLED TV panel allows for larger pixels in a format that is more amenable to the manufacturing process. The sheer volume of large OLED TVs produced also creates economies of scale that reduce costs. LG for example has invested billions in OLED TV production facilities and benefits from substantial experience and optimization after churning out millions of panels. Monitor makers simply cannot match this scale yet.
Concerns About Longevity
Monitor manufacturers also worry about the lifespan of OLED displays, particularly when used in PC monitors. While OLED TVs have largely overcome burn-in issues, static screen elements like desktop icons or taskbars raise concerns about accelerated burn-in when used for prolonged periods. Most TV viewing involves full-screen constantly changing content, whereas computer monitors often display static user interfaces.
Mitigating OLED burn-in requires extra engineering like pixel-shifting and screen dimming technology. But these techniques are not foolproof, and the risk of uneven wear may still spook manufacturers from adopting desktop OLEDs. This is especially true for lower cost 24-inch monitors meant for everyday use rather than professionals.
Niche Appeal So Far
The 24-inch monitor segment makes up a large share of the overall market, but is dominated by budget-conscious models. Most 24-inch monitors sell for $200 or less. While visual performance has increased, high resolution and color quality are still considered premium features.
By contrast, OLED technology commands a steep premium. The production difficulties and burn-in concerns mean OLED monitors are unlikely to match inexpensive LED-backlit LCD prices anytime soon. The combination of 24-inch monitor buyers looking for value along with the high costs of entry level OLED panels make this category unappealing currently.
But the ultra-enthusiast market serves as an early adopter for premium innovations. This explains the focus on jumbo ultrawide OLED monitors over $1000. That niche audience will accept the high price and risks of first-generation products to gain cutting-edge image quality. However, that niche alone likely cannot sustain broader OLED monitor adoption or justify the investment to expand production.
Outlook for the Future
Despite the current challenges, there are good reasons to remain hopeful about more diverse OLED monitor offerings long-term. Several technology trends point towards the arrival of affordable mid-size OLED models in the coming years.
Maturing Production
As manufacturers expand OLED production, costs are gradually dropping. LG is investing over $10 billion to build out next-generation OLED panel factories. Their "inkjet printing" technique is expected to increase yields for 55-inch and larger television panels. This scaling up of manufacturing expertise will ultimately help make producing smaller monitor-sized OLED panels more efficient and cost-effective.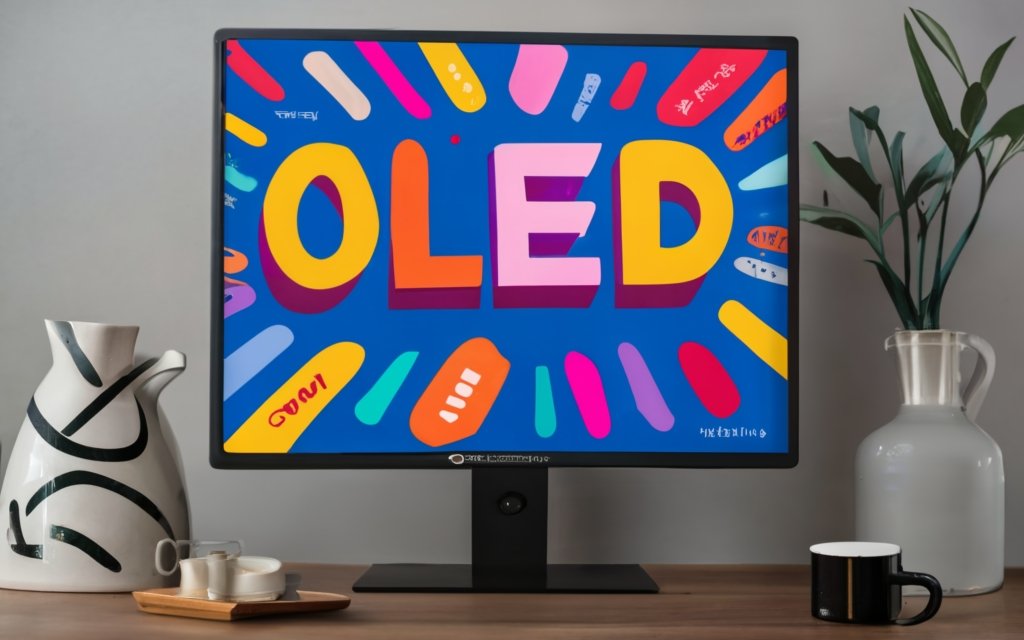 OLED technology itself is also rapidly evolving. Maker AUO recently unveiled a 27-inch OLED monitor panel produced using a new tandem architecture. This two-layer design allows for increased brightness and efficiency. As process improvements like this enable monitors with longer lifespan and fewer compromises, manufacturers will gain confidence in OLED for desktop monitors.
Expanding Adoption
While the first OLED monitors are targeted at enthusiasts, wider adoption in the mainstream monitor market will occur in stages like previous technologies such as higher resolutions. As prices inch downward, OLED will become more appealing for mid-range models.
Monitors have a slower refresh cycle than TVs, so it takes time for new innovations to achieve significant market penetration. But with each new generation of products, OLED monitor pricing and availability across various sizes will improve. This broadening acceptance will ultimately make the prospect of launching 24-inch models along with other niche monitor sizes more attractive.
Emerging Competition
The current OLED monitor market is extremely dependent on LG's supply chain and panel production. However, new competition especially from Chinese manufacturers will help diversify sources and increase price/feature competitiveness.
Alternative self-emissive display technologies like MicroLED are also starting to emerge. While still limited to very large and expensive installations, MicroLED promises similar image quality benefits without burn-in concerns. As these technologies mature, they could capture market share and force long-established players to expand OLED production in order to compete across all mainstream monitor sizes.
Conclusion
The lack of 24-inch OLED monitors despite intense interest illustrates the early challenges of introducing OLED technology to desktop displays. Manufacturing difficulties, burn-in risks, and limited initial demand from outside the high-end enthusiast market have all contributed to the absence of models in this popular monitor size so far.
However, OLED manufacturing is rapidly evolving along with a broader acceptance of the technology's advantages. Within a few years, OLED monitor availability and affordability across a full range of sizes from 24 to 32 inches seems highly likely. Patience will reward those seeking the ideal "goldilocks" OLED monitor combining stunning image quality, mid-size appeal, and accessible pricing.