The Xbox Series X solely relies on HDMI 2.1 ports for display connectivity. Unlike PCs, the Xbox Series X does not have any DisplayPort, Mini DisplayPort, USB-C DisplayPort, or other display outputs besides HDMI.
When designing the Xbox Series X, Microsoft opted to only include cutting-edge HDMI 2.1 ports, rather than supporting legacy standards like DisplayPort. This allows the Xbox to achieve very high resolutions and refresh rates like 4K 120Hz gaming over a single HDMI 2.1 cable.
However, it also locks Xbox Series X owners into using HDMI for their display connection, with no alternative options like DisplayPort offered.
HDMI vs DisplayPort: Pros and Cons
For high frame rate gaming, HDMI and DisplayPort are the two main competing display standards. HDMI 2.1 and DisplayPort 1.4 both can handle the bandwidth for 4K 120Hz gaming.
However, HDMI has wider adoption among TVs and monitors, since it is an open standard that doesn't require certified components on both ends. DisplayPort requires both source and display devices to be certified DisplayPort compatible.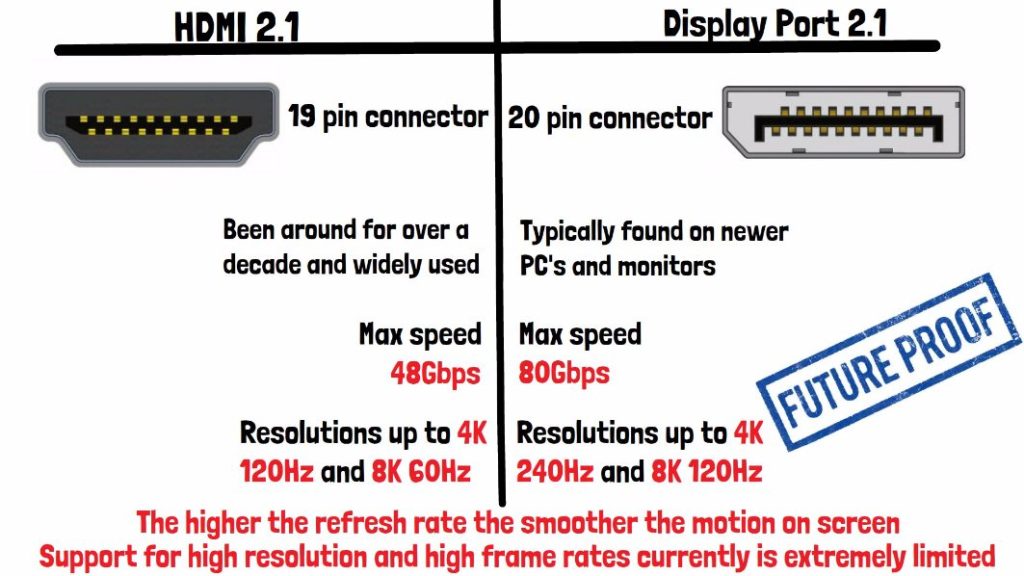 The Xbox Series X uses HDMI only, so users must find HDMI compatible displays. HDMI also carries audio channels together with video, whereas DisplayPort requires separate analog or digital audio connections.
DisplayPort's main advantage is that it offers higher maximum bandwidths in newer versions like DisplayPort 2.0. However, until future Xbox consoles add DisplayPort support, HDMI remains the only display option for tapping into the console's capabilities.
Monitor Specs and Compatibility
Monitor Requirements for Xbox Series X Gaming
To unleash the full potential of the Xbox Series X, gamers need to seek monitors specifically equipped with HDMI 2.1 ports. Many current monitors are still limited to HDMI 1.4 or HDMI 2.0, which bottleneck the max resolutions and frame rates possible over that HDMI version.
For example, HDMI 1.4 maxes out at 4K 30Hz or 1440p 60Hz, while HDMI 2.1 can handle 4K 120Hz. So an HDMI 2.1 monitor is required to experience buttery smooth 4K gaming at 120 frames per second.
Variable refresh rate support via AMD FreeSync or Nvidia G-Sync is also strongly recommended, as this matches the monitor's refresh rate to the game's frame rate for super fluid visuals. HDR capabilities provide wider contrast and more vivid colors. But the HDMI 2.1 port is the non-negotiable must-have spec for Series X monitors.
Resolution and Refresh Rate Compatibility
The Xbox Series X is capable of outputting up to 8K resolution at 60Hz or 4K at 120Hz frame rates. Lower resolutions can scale even higher – 1440p at up to 120Hz, 1080p at up to 240Hz. But the monitor needs sufficient HDMI bandwidth to take advantage of the Xbox's power.
HDMI 2.0 and HDMI 2.1 ports can both handle 1440p at 120Hz. But only monitors with HDMI 2.1 have enough bandwidth for the crucial 4K 120Hz capability. Anything less, like HDMI 1.4 or HDMI 2.0, will limit the Xbox Series X to 4K 60Hz gaming.
So for ultra smooth 4K gaming, an HDMI 2.1 monitor or television is a must to avoid leaving Xbox Series X performance on the table.
Adapters and Workarounds
Adapters and Their Limitations
Some Xbox Series X owners with monitors lacking HDMI 2.1 have attempted using HDMI-to-DisplayPort adapters as a workaround. But currently no adapter exists that can fully convert the HDMI 2.1 video signal from the Xbox Series X into DisplayPort at 4K 120Hz.
There are bandwidth bottlenecks preventing this, as well as directionality limitations since the adapters are designed for DisplayPort out to HDMI in. Some adapters can provide incremental improvements like 1440p 120Hz, but fall short of unlocking the console's maximum capabilities. For now, these adapters are an imperfect compromise rather than an ideal solution.
Alternative Solutions
Until HDMI 2.1 monitors become standard, Xbox gamers have a few alternatives to compensate for monitors lacking cutting-edge HDMI 2.1 ports. They can split the HDMI signal so video feeds the monitor while audio is extracted separately to speakers or a headset via the controller jack.
Building a high-end gaming PC with DisplayPort is an alternate route that bypasses HDMI limitations. But ultimately, monitors and TVs with HDMI 2.1 built right in offer the only seamless way of tapping into everything the powerful Xbox Series X can do.
Gaming Performance with Adapters
Potential Visual and Smoothness Sacrifices
Using HDMI-to-DisplayPort adapters with the Xbox Series X can enable higher resolutions and refresh rates compared to direct HDMI connections. However, there are likely to be compromises in image quality and gaming smoothness.
Factors like chroma subsampling, color banding, input lag, and variable refresh rate support may suffer compared to gaming natively through HDMI 2.1 or DisplayPort 1.2/1.4. The video signal conversion process can introduce artifacts and latency.
So while adapters may offer incremental improvements in frame rate and resolution, they fall far short of matching the uncompromised visuals and responsiveness of a direct monitor connection.
For example, chroma subsampling could result in color accuracy issues, with fine detail lost during the HDMI-to-DisplayPort conversion. Input lag could also increase from the adapter's video processing, harming gameplay responsiveness.
And variable refresh rate technologies like AMD FreeSync may not function properly when passing through an adapter. So adapters can provide a bump in frame rate, but at the cost of pristine image quality, lag-free inputs, and variable refresh rate smoothness. Gamers must weigh if these tradeoffs are worthwhile for relatively modest gains.
Troubleshooting Adapter-related Issues
Using HDMI-to-DisplayPort adapters can introduce various new technical problems during Xbox gaming sessions. Issues like video signal handshake failures between the console and monitor are more likely when passing through an adapter.
Changing adapter models, verifying the monitor's specs and supported resolutions/refresh rates, and adjusting Xbox video settings can help resolve these problems. But overall stability is still far lower than enjoying a seamless, direct HDMI or DisplayPort connection to the monitor.
Getting an adapter up and running optimally on the Xbox will require patience and ample experimentation. From tweaking Xbox display settings to trying different adapter brands and models, users may need to thoroughly test setup variations to find the best configuration.
But even after troubleshooting, adapters are prone to occasional glitches or subpar performance. So adapters demand compromise in both gaming experience and stability.
Xbox Series X DisplayPort Situation
In summary, the Xbox Series X lacks any native DisplayPort connectivity, instead relying solely on HDMI 2.1 for high bandwidth video output. This severely restricts options for connecting to high refresh rate gaming monitors, many of which only have lower bandwidth HDMI 1.4 ports but much faster DisplayPort.
Current HDMI-to-DisplayPort adapters are flawed and imperfect solutions, generally failing to unlock the Xbox Series X's full capabilities, especially at 4K 120Hz resolution and frame rate. At best, only modest improvements are possible through HDMI-DisplayPort adapters, but at the cost of ideal visual quality, lag-free responsiveness, and stability.
For Xbox gamers seeking the absolute best next-generation experience, new monitors natively equipped with HDMI 2.1 are the ultimate solution. Until those become commonplace, third-party HDMI-DisplayPort adapters will remain an underwhelming stopgap measure.