With the rise in popularity of curved monitors with their wraparound effect, an intriguing possibility emerges – combining a curved display with a traditional flat monitor. While this blended setup has its advantages, there are also important considerations when mixing curved and flat panels.
Curved vs. Flat Monitors
Curved and flat monitors each have their own pros and cons that impact how they perform for different uses. Understanding these key differences allows users to make the best choice for their needs.
Curved Monitor Pros and Cons
Curved monitors can provide a more immersive experience for gaming and video viewing. The wrap-around screen fills more of the user's field of view for a feeling of greater depth and involvement. Curved ultrawide monitors are especially popular for gaming immersion.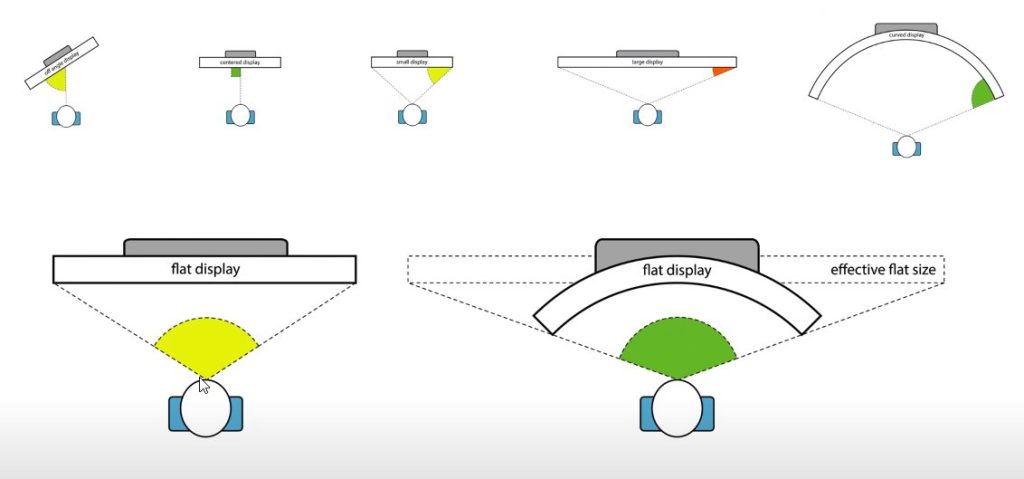 However, curved screens also introduce some potential drawbacks. The curvature can cause visual distortions and eyestrain when not viewed straight-on, so they are less ideal for productivity tasks requiring color accuracy and detail. Smaller curved monitors under 30″ may provide little benefit over flat screens.
Flat Monitor Pros and Cons
Flat monitors have remained the standard for good reason – they offer consistent image quality regardless of the viewing angle. Most high-end professional monitors still use flat rather than curved panels, especially IPS monitors prized for color accuracy.
This makes flat monitors well-suited for color-sensitive graphic design work and productivity. However, they lack some of the immersive qualities of a curved display. Flat monitors are also preferable when using multiple monitors, as the lack of distortion allows seamless transitions between displays.
Choosing the Right Setup
When combining both curved and flat monitors, proper setup is critical for an optimal experience. There are several configurations that can provide the right blend for different needs.
Configurations
A common recommendation is using the flat panel centered for gaming, with a curved ultrawide display on the side for supplementary content like chat windows or maps. Stacking with the flat panel above also avoids dividing the central field of view important for gaming.
Alternatively, the curved monitor can serve as the main display for gaming immersion, with flat panels on the sides for web browsing or productivity apps where color accuracy is important.
Size, Resolution, and Aspect Ratios
Larger monitors benefit more from curvature, so flat panels are often preferable for standard 24-27″ 16:9 displays used for work. For immersive gaming, a 1440p or 4K resolution flat monitor in the 27-32″ range provides stunning visuals without distortion.
Ultrawide curved displays in the 30-40″ range offer panoramic 21:9 or 32:9 aspect ratios suited for gaming. Smaller 1080p flat displays under 27" are well-suited for secondary monitors used for work rather than gaming.
By understanding the strengths of both flat and curved displays, users can mix and match to create the perfect multi-monitor environment. Curved screens provide engrossing visuals for gaming and video, while flat panels boost productivity. With smart placement and the right specifications based on use case, a blended curved and flat setup offers the best of both worlds.
Performance and Features
When selecting monitors for a dual curved and flat setup, considering the technical specs and features ensures the displays will excel for their intended uses.
HZ and FPS for Gaming
For the primary gaming monitor, a high refresh rate of 144Hz or 240Hz paired with a low response time of 1ms is ideal for smooth, fluid competitive gameplay. This allows gamers to fully take advantage of high frame rates exceeding 100+ fps from their high-end GPUs.
The secondary productivity monitor can have a more standard 60-75Hz refresh rate and 5-8ms response time since lightning-fast pixel transitions are less important.
G-Sync and FreeSync
Using a variable refresh rate technology like Nvidia's G-Sync or AMD's FreeSync adapts the monitor's refresh rate to match the game's frame rate output from the GPU. This prevents stuttering, screen tearing, and lag while gaming. G-Sync and FreeSync are highly recommended for the main gaming monitor to provide a seamless experience. The secondary display won't benefit as much from adaptive sync and can forego this advanced feature.
Additional Considerations
A few other factors beyond performance should be evaluated when choosing curved and flat monitors to combine in a dual setup.
Brands and Models
Popular monitor manufacturers include Dell, LG, Samsung, Acer, ASUS, AOC, and MSI. For curved models, the Samsung Odyssey G7, LG 34GN850, and Dell S3422DWG ultrawides are well-suited for immersive gaming. Reliable budget flat monitors come from Acer, ASUS, and LG. Pairing a high-end curved gaming monitor with an affordable yet functional flat display balances performance and budget.
Connectivity, Mounting, and Stands
Both monitors should have at least HDMI 2.0 and DisplayPort 1.4 inputs to support high resolutions and refresh rates. Height, tilt, and swivel adjustment in monitor stands provide flexible ergonomic positioning. VESA mounting holes allow using monitor arms to optimize placement in a multi-monitor setup.
Budget Constraints
Prioritizing the features and performance of the main gaming monitor while sacrificing some specs on the less demanding secondary display can help balance costs. But investing in monitors with specifications and capabilities that will still deliver smooth gameplay for future GPU upgrades can extend their usable lifespan and prevent premature upgrades.
Conclusion
Creating an effective dual monitor setup with both curved and flat displays requires carefully weighing preferences like aesthetics with performance needs for gaming, productivity and entertainment uses.
While mixed curved and flat arrangements can present challenges, choosing monitors tailored for their intended uses with the right connections, specs, and ergonomics can lead to the ideal blended environment.