Setting up triple monitor displays for sim racing requires careful consideration to find the optimal configuration. The angle between the three monitors is one of the most critical factors, as it impacts the field of view, sense of immersion and usability. Finding the best angle is essential for maximizing realism and performance.
Monitor Angle and Field of View
Ideal Monitor Angle
For 32″ monitors, an angle of 60-70 degrees for you is ideal.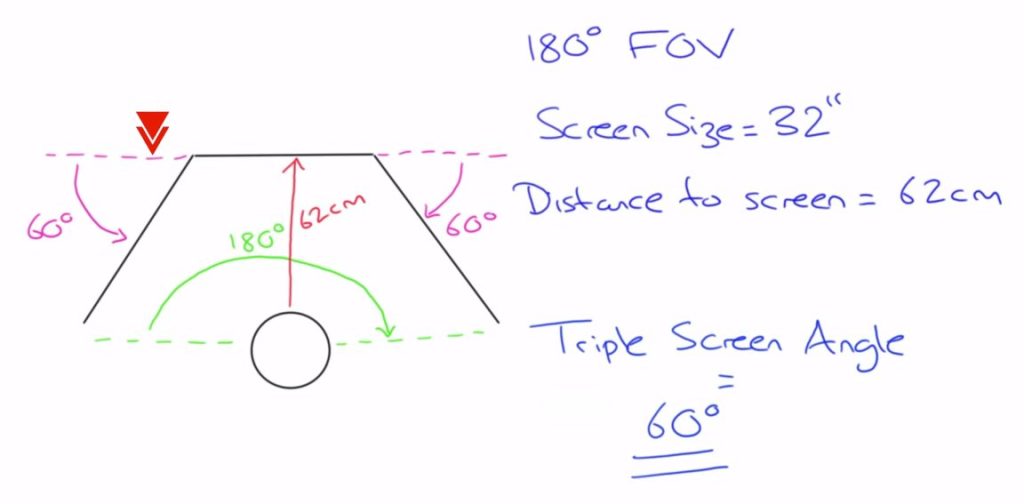 This provides a horizontal field of view of around 180 degrees for a fully encompassing perspective. Older guidance suggested 45 degree angles, but this is now considered too narrow. Graphics card limitations like Nvidia Surround may restrict the maximum angle depending on the GPU.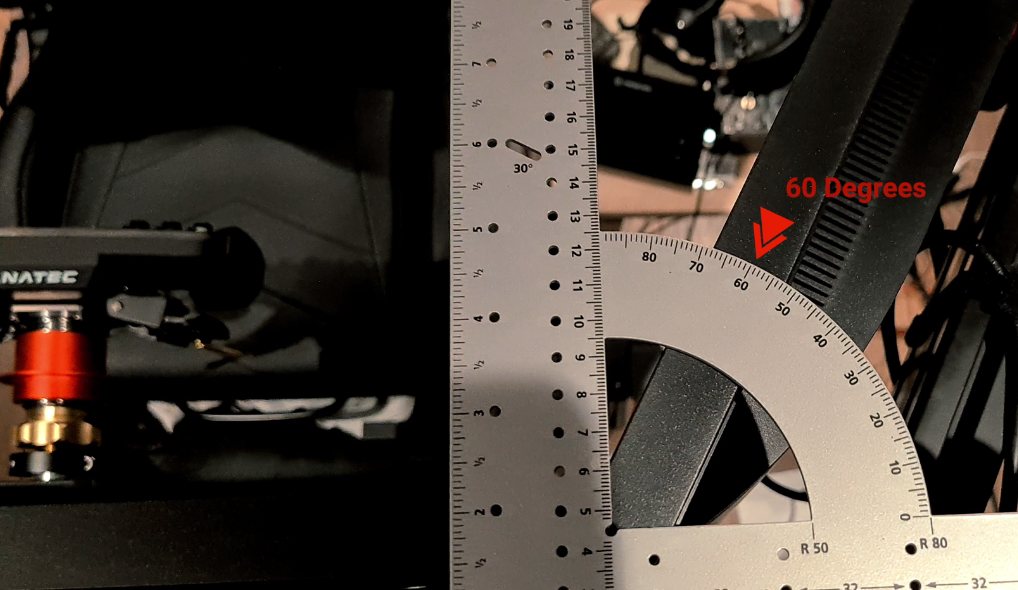 Wider angles enhance immersion but may reduce usability if too extreme.
Field of View
A horizontal field of view of 180 degrees is a common goal, providing realism while remaining usable. Online FOV calculators can help determine the required monitor angle and distance to achieve this. A wider field of view increases the sense of speed and immersion but reduces visibility of the dashboard and apexes. Finding the right balance for each user's preferences and space constraints is key.
Monitor Placement and Eye Position
Monitor Placement
The center monitor should be placed as close to the wheel base as possible, with side monitors angled outward at the optimal angle. Side monitors are often slightly behind the center to eliminate bezels. Monitor height, especially the center, should be close to eye level for minimizing head movement.
Eye Position
Positioning the eyes at the vertical center of the monitor array maintains proper perspective and minimizes distortion. Adjustments to seat height may be required to achieve this alignment. Tilting monitors can also counteract warping effects. Software adjustments are secondary to physical positioning.
Distortion and Bezel 
Distortion Correction
Tilting monitors is the primary method for correcting warped horizon lines and gradients. This should be done before software tweaks like "vanishY" in sims. Physical adjustments create consistent results in any software, while software is limited to the sim. Different types of distortion may need complementary corrections. Patience and trial and error are required.
Bezel Correction
Bezels (gaps between monitors) can be minimized by overlapping side monitors or corrected in software using surround or in-game tools. Bezel kits physically reduce gaps between monitors but have angle requirements. Bezel management techniques impact ideal monitor angles and placement. There are always trade-offs between bezel elimination, ideal angles, and workspace.
Monitor Size, Alignment, and Software
Monitor Size
Larger monitors require wider angles between them for an optimal triple screen setup. For 32″ displays, angles around 60-70 degrees are commonly recommended. This provides a horizontal field of view of 180 degrees or more. Smaller 27″ screens need less angle, with around 45-55 degrees being suitable. The angle has to balance field of view with usability.
Alignment
Precisely aligning the edges of the monitors is crucial for minimizing gaps between displays. Even small misalignments can distort perspective. The monitors must be edge-to-edge both horizontally and vertically. This requires painstaking adjustment and trial-and-error to perfect. The edges should be visually continuous.
Software Settings
In-game settings like field of view (FOV) and horizon adjustment should be configured after getting the physical alignment right. Use default values then tweak as needed. However, prioritize physical positioning over software settings for the best image quality. Different sim titles have their own specific options, so optimizations should be done per game.
Personal Preference and Hardware
Personal Preference
While guidelines exist, there is no single ideal triple monitor setup. The best configuration depends on personal preferences, seating position, rig constraints, and room layout. Numbers from calculators provide a starting point, but comfort and experimentation to find the optimal balance for each user is key.
Hardware Limitations
Older GPUs can restrict the maximum angle between side monitors. Newer graphics cards enable wider angles for increased immersion. Users must work within the technical limits of their hardware. Upgrading equipment can unlock greater adjustability for finding the best triple display setup.
Adjustability and Costs
Rig Adjustability
Having monitor stands and mounts with tilt, swivel, and height adjustments makes fine-tuning triple monitor alignments much easier. Adjustable seating also helps center vision. Refining a setup to perfection requires flexibility.
Costs and DIY
Budgets impact options – more adjustable monitor mounts and stands cost more but provide greater precision. Bezel correction kits help align displays, sometimes requiring DIY modifications. Users can improvise solutions, but getting the ideal experience has a cost.
Recommendations
Online sim racing communities provide valuable guidance, with members sharing photos, videos, and experiences of their triple screen setups. Discussions offer tips and critiques. Building on the insights of others helps maximize results while minimizing trial and error when optimizing angles and alignment.
Summary
Finding the best angle and alignment for triple monitor setups requires factoring in many variables. The optimal balance of field of view, perspective, and usability depends on budgets, preferences, and hardware. Input from online communities combined with diligent experimentation leads to immersive triple screen configurations tailored to each user's constraints and goals.